Estratta dall'opera "Canti dalla Terra di Mezzo"
a cura dell'Associazione Tolkieniana Eldalie (www.eldalie.it)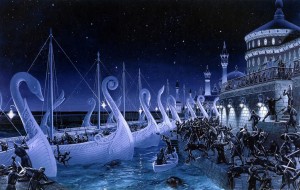 Ceruleo di un libero stormo è il battito d'ali
quando di un antico elfo il pensiero finanche si libra
oltre le terre immortali ove a lungo dimora
di una sempiterna progenie l'immutato volo;
dei Teleri, Noldor e ancora Vanyar, elfi sì tutti,
l'approdo, presto come onda fluisce fra coloro i quali
di una comune patria condivisero il nudo germoglio,
affinché lungamente più non naufraghi il tetro ricordo
di codesta era antica che la pace sempre condanna
tra empie e oscure ombre d'atona prigionia
poiché delle coste d'Alqualondë altresì d'Eressëa
la Solitaria, ove d'un esilio beato memore è il pianto,
si svuotano per sempre dall'odio i tenui grani sabbiosi.
Yára Namárië
(versione in elfico)
Traduzione di Mauro Ghibaudo
Helwa léra umbo ná rincë rámaron
írë yára Quendëo sanwë yando orta imma
ilfirin nóri pella nómessë yassen tennoio marë
oira indyoron úahyana lenda;
Teleri, Noldor ar yando Vanyariva, Quendë nar illi,
i lanta, rato ve falma sirë mici queni i
imya nórëo coina i poica tuima,
sië andavë úva vanya ata i morna olor
sina yára rando sérë illumë nutë
imíca olcar ar nullar lómini móli quildëo,
pan falassion Alqualondë ar Eressëava
nómessë yassen alya etelerro enyalë i nyényë,
rúna tennoio téviëllo i linyë litseiva ori.
Ancient Farewell
(Antico Addio in inglese)
Traduzione di Mauro Ghibaudo
Pale blue of (a) free swarm is (the) quick stroke of wings
when of (an) ancient Elf (the) thought also raises itself
beyond immortal lands in (the) place in which forever abide
of eternal descendants (the) unchanged journey;
of Teleri, Noldor and also Vanyar, Elves are all,
the fall, soon as wave flows among (the) people who
same native land lived the pure bud,
thus (for a) long time won't disappear again the gloomy dream
of this ancient age (that the) peace always bind
among wicked and dark shadows slaves of quiet,
since of the shores of Alqualondë and Eressëa
(the Lonely,) in (a) place in which of (a) blessed exile remember the weeping,
free forever from (the) hatred the thin sanded grains.
Ogni diritto è riservato.