As a graphic designer, one thing that should encompass your work is quality. Your work should scream QUALITY, whether you're a novice or a well- experienced designer. It is what sets you from the crowd.
Your work must speak for itself, and getting your work to speak for itself isn't as difficult as it may seem. It all boils down to having the right tools to work with. Making use of the right tools automatically improves your designing skills.
As you already know, your major tool is your graphic design software. Now, it's all about figuring out the best design software that works perfectly for you. The most effective way to know which graphics software suits you best is by experimenting with the tools to find your way around it.
There are countless graphic design software, so I have done some research and experiments to narrow them down to just five. Also, some of these graphic software are absolutely free for PC so you might not have to break the bank to improve your designing skills.
These software are well-built and easy to grasp for a beginner and they also feature advanced tools for experienced designers.
Without much ado, these are 5 of the best free graphic design software you should try out.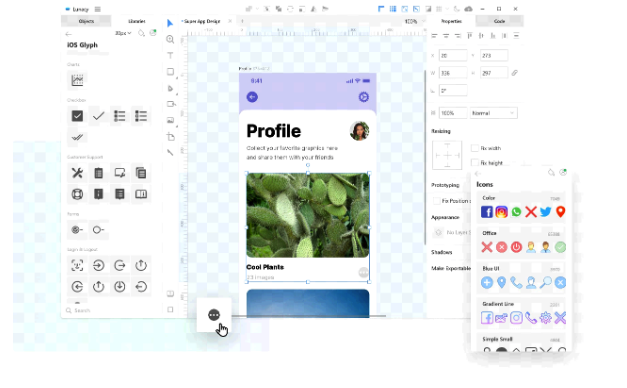 On top of our list is Lunacy. It is a free graphic design software that comes with in-built design tools. It is a sketch alternative for windows(you read that right) SKETCH ALTERNATIVE FOR WINDOWS.
Lunacy is a windows application which works offline and supports sketch files. It doesn't matter if you are an amateur or a professional, it suits your taste perfectly. Being able to edit sketch files in windows is a huge deal, that's one of the reasons why I would recommend this graphic software.
The application gives you an option of choosing what you want to do and lets you work within your range then export your file. It also features basic essential tools like coloring and coding, geometric figures, and the likes.
Lunacy works smoothly on your computer, and as I mentioned earlier, you can download it on your PC for free. Below is a link you can check out to have an idea of what working on the app looks like
Sketch


Sketch is a Mac only graphic software. It is primarily a UI design tool and probably the best tool for UI/UX designers.
The application makes it easy to create designs for mobile and web. It could replace Photoshop as the go-to app for designers. The user interface is so clean and it almost never freezes when you're working.
Any file you create in Sketch can easily be opened in most design tools like Adobe XD, Figma etc and you can also compress images to reduce file size. The application makes it easy for you to drag, copy and arrange different artloads on a very beautiful interface to work with.
One could say the app perfectly combines Illustrator and Photoshop. The only major downside to this amazing UI design tool is that it is exclusively for Mac.
It offers a 30-day free trial for PC after which you make a one-time payment of $99.
Gravit designer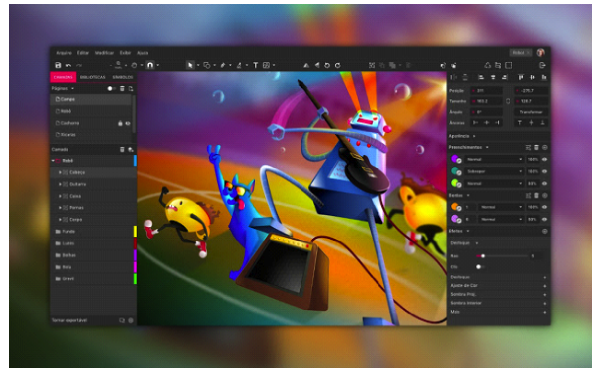 Gravit designer is a free graphic design software that supports ALL platforms. You can use it to create interfaces, design websites and even make illustrations and designs of artworks of full games.
It houses UI design tools, graphics for marketing, presentation, and animation graphics. All of which will improve the quality of your work for good.
This graphic software has powerful pages, auto layouts, and power grids, and even though it is free, it features tools that rival design software that is paid for.
One impressive feature of Gravit designer is that it can run as a desktop app or as an in-browser and it runs smoothly on Chrome OS, Linux, Mac, and Windows devices.
Inkscape
Inkscape is also free graphic design software for PC. It is an open-source graphics editor which supports GNU/Linux, Mac OS and Windows.
With Inkscape, you have access to super vector graphics which allows sharp printouts, and you can also render with unlimited resolution. This software also supports SVG animations. All you have to do is save the file, tweak its code using a text editor then add animations.
You can also export several objects at once, which makes Inkscape a time-saving design software. It has a friendly user interface which makes it easy for you to work with whether you are an amateur or a professional graphics designer.
Although Inkscape is free, it features top-notch tools to aid your design process. You do not need to be an expert to use this graphic software.
It is absolutely difficult for me to point out something I do not like about Inkscape. You should check it out.
Vectr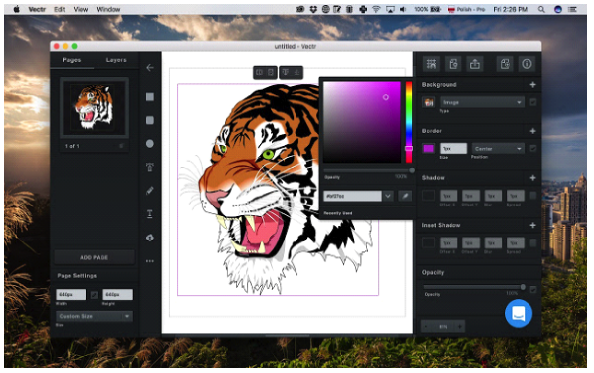 This is one of the best free graphic design software for PC out there. If you are a novice, this is a superb app for you to improve in a very comfortable and easy way within your range.
Even if you do not have any prior knowledge on developing graphics, it doesn't matter with Vectr. So you can learn and work at the same time. You do not have to be a professional designer before you find your way around this amazing graphic software.
And you can also export files as PNG, JPG or SVG. It works on Mac, Windows, and Linux.
Free graphic design software that gives room for self-learning(if you are a novice) and works at the same time, without compromise to top-notch tools for professionals is worth your time.
Among a long list of graphic design software, i have handpicked these five stunning softwares for you to check out. All are very easy to use and will revolutionise your design skill for the best. And you also might not have to break the bank to take your design game to a whole new level, so why not check them out NOW?